Many people who are new to the process of video production might not  know which questions to ask. They typically have an idea of the type of video they want, but a lack of familiarity with the process means they are often unsure how to start the conversation with the video production team. 
This guide is designed to help people create a video production questionnaire to help them understand what will go into their project. It covers questions clients should ask while choosing a video production company and covering the logistics and other details of the process.
Getting to Know the Production Company
Asking the right questions is essential when someone is vetting a video production company. Savvy inquiries can reveal the levels of experience and expertise of the company and get clues to how involved the project will be. Here are a few to always ask:
How Long Has the Company Been in Business?
Anyone can start a video production company, but that doesn't necessarily mean they have the skills to make a high-quality video. Clients should learn how long a company has been in business and ask for references and samples of their work.
How Many Similar Videos Has It Produced?
There are many different types of videos, and a production company that's skilled at making instructional videos, for example, may not be the right choice for a client looking for a short viral advertisement. Clients should look for production companies that have demonstrated experience with the types of videos they need.
What Defines the Company's Culture?
Cultural similarities between the client and the production company can help boost the success of the project. Learning more about the production company's culture and values helps the client understand what to expect during the production process.
There are no right or wrong answers to these questions. Clients need to listen to the answers and decide if a particular company works for their needs and goals.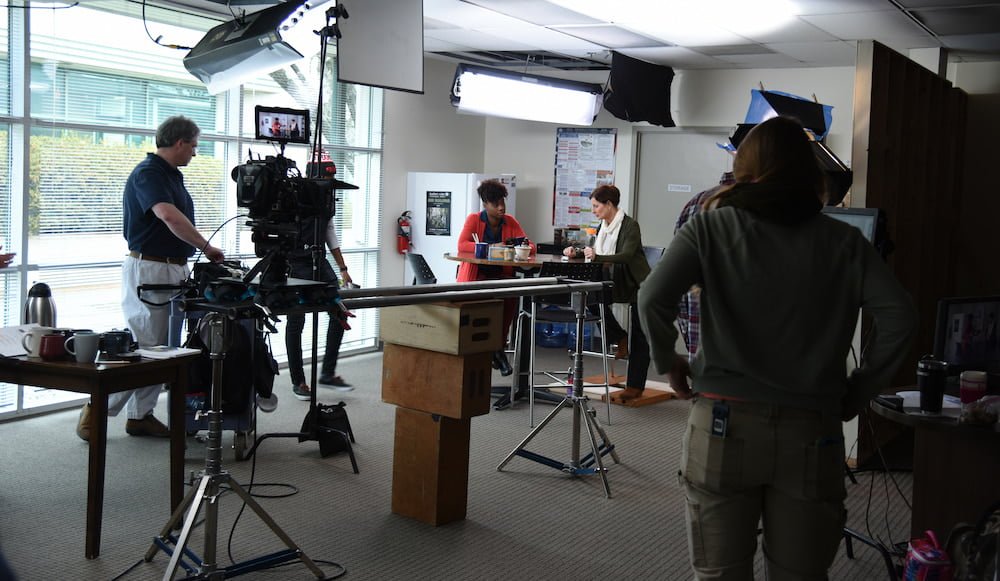 Logistical Questions About the Video Production Process
It's also important to add questions about the logistics and other details of the process to their video production questionnaire. Getting as much clarity as possible before the project begins will help ensure a finished product that meets the company's goals. Here are some of the types of questions they may want to ask.
Where Can the Video Be Filmed?
Videos can be shot in a studio or on location. The location may be outside, in the client's office, or in another space. People who need videos should ask where they can be shot, and they should talk with the production company's rep about the pros and cons of filming the video in different locations. 
How Does a Teleprompter or Other Equipment Work?
Video producers work with production equipment daily, but they don't expect their clients to understand how it works. Clients should ask questions about teleprompters and other equipment that's getting used on their video, and they should familiarize themselves with that equipment as quickly as possible if they'll be using it.
When Can the Project Start?
Many video production companies are busy and schedule projects in advance. Don't assume that a producer can start a project right away. Clients should ask when the company can get started so they can plan ahead, and they should get everything in writing.
How Are Scripts Developed?
The script outlines everything that's going to happen in the video, and clients need to understand who's writing it. Can the production company use a script that the client has already written? What's the review process if the production company writes the script? Does the company have sample scripts they've used for previous projects? The more the client knows, the smoother the creative process will be.
What Happens During the Editing Process?
Editing turns raw footage into a final product. This stage of the video production process involves cutting out unnecessary footage and putting the video together, but it can also include adding subtitles, animations, and other postproduction elements.
What's the Projected Timeline for the Video Production Process?
Clients should understand as much as possible about the timeline before they start the project. Adding questions about the timeline to a video production questionnaire helps ensure everyone is on the same page. It allows clients to avoid late delivery of a video and enables them to plan around the production company's anticipated timeline.
What Can the Company Produce Based on the Budget?
A video production company can let a client know what the project's anticipated budget is going to be, but most clients come in with a preset budget. They should talk frankly with the company about what they can accomplish on their budget. 
What Problems Might Occur?
Even the most carefully planned project can encounter hurdles or problems. Shooting outside, for example, is dependent on the weather. Clients should ask about potential problems, how they'll be handled, and how they might affect the production timeline.
Is This a Collaborative Process?
Some video producers want complete creative control. They get an idea from the client, and they handle everything else. This often leads to a product that's not what the client wants. The most effective production companies, in contrast, engage in a collaborative process. They work alongside their clients, listen to their ideas, and work hard to meet their clients' objectives for their videos.
Asking the right questions helps to ensure that a client knows what to expect. It also helps clients learn more about a prospective company. Video firms with responsive reps who are willing to answer questions clearly and with detail are typically easier to work with than those who are less transparent about the process.
Contact Rock Creek Productions Today With Your Questions
Any client would be wise to assemble a video production questionnaire that illuminates what will happen with their project. Rock Creek Productions has a team of production specialists ready to discuss your video project and answer any questions you come up with. 
We're proud of our creative process and the cinematic storytelling we've delivered to so many clients. Contact our office today to learn more.