Corporate Video Production
Corporate Video Production In Washington DC
Finding professional quality corporate video production in D.C. can be a real challenge. You need a company that can create a range of productions, from product marketing and company success stories to trade show branding promotions and training videos. Each type requires a different message for a particular audience, and your production team should be able to craft a visual story that viewers find compelling and engaging. 
At Rock Creek Productions, we understand the need for a multimedia approach to corporate marketing, branding, and internal communications. Using video means you can create a more memorable impression while providing both education and engagement. Our team uses the latest equipment as well as the expertise of seasoned professionals to help you tell a story or market a new product. 
Our dedicated team of creative experts will meet with you to discuss your intended message, branding, audience, and purpose to create a unique corporate video solution to suit the particular needs of your project.
How Your Business Benefits From Corporate Video Production Services
Today, more than ever, video production is the way to reach audiences both within your company and around the globe. Humans learn through stories, and effectively bringing those stories to life through targeted visuals or in longer-form interactions can create lasting connections, empathy, and engagement with an audience.
Below are just a few of the advantages of using corporate video production:
ELEVATE YOUR BRAND MESSAGE
Corporate videos establish a relatable narrative that engages viewers through tailored scripting, high-quality video filming, and distinctive sound production. It is critical that your product be created with the utmost attention to every detail. With corporate video production from Rock Creek, you tell an audio-visual story that represents your brand and reaches your audience.
REACH A WIDER AUDIENCE
Videos have become a mainstream method of promotion as search engines and social media advance. You can reach an entirely new audience through targeted advertising on sites like Google, Facebook, Instagram, and Twitter. Quality corporate video production reaches both visual and auditory learners, allowing you to engage a wider range of potential clients while creating a distinct, unique brand narrative.
ENCOURAGE SHARING ACROSS PLATFORMS
Posting your corporate video to sites like YouTube makes it easy for your viewers to share your video, spreading your message throughout the internet for a worldwide audience. The superior technology, skilled videographers and editors, and team at Rock Creek can help you create a video that stands out. A variety of available formats means you can ensure your video is posted to social media and video sharing sites to increase your visibility and brand appeal.
UNIQUE AND ENTERTAINING PRODUCTION FOR HIGH ENGAGEMENT
With corporate video production, you gain the advantage of high quality audio and video content that captures your audience and makes them want to learn more. Rock Creek's experienced team of visionary producers will help you create unique productions that both entertain and educate your audience.
Our goal is to help you express the message you want to convey for your individual products and your brand as a whole. Contact us today to speak with our experts about your video production services needs.
Washington D.C.'S Premier Video Production Company
With more than 20 years in the industry, the experts at Rock Creek understand that every project has different needs:
Know that every successful project requires a collaborative effort by technical experts, creators, and on-screen talent.
Offer a seasoned, professional team operating in a productive, energetic environment.
Endeavor to create a singular experience tailored to the needs of your brand and products.
Apply the latest production technology, cinematography, lighting, and sound effects.
Utilize flawless scripting with professional and non-professional actors to create a compelling and captivating story.
Rock Creek's combination of high-quality equipment and skilled production technicians to take on any project, from product descriptions and demos to full-length training videos. Our extreme attention to detail and comprehensive hands-on experience mean we can provide efficient production services in the studio and on location.
We are committed to ensuring the highest level of efficiency. We can field multiple production teams at once, allowing us to complete quality productions quickly, on time, and within your budget.
Work With Dedicated Production Professionals
Whether you need studio or on-site recording and filming services, Rock Creek has the equipment and professional skills to ensure that your project runs smoothly from creative development and design, through production and post, to final distribution. For customers who need in-house production, we offer a fully-equipped 5,500 sq ft studio in Herndon, VA with:
An extendable stage
23′ wide Infinity Cyc
Green screen capabilities
Make-up and green rooms
A set and prop workshop to support set design and construction
A variety of professional and residential furnishings
Our experienced cinematographers and videographers operate high-definition 4K Sony CineAlta and BlackMagic Mini Ursa Pro cameras, with a comprehensive selection of Zeiss digital cinema prime and Canon Cine variable zoom lenses, for flawless imagery. In addition, we keep a full complement of support equipment, including:
Mobile camera platforms
A Steadicam
Handheld Mōvi gimbal system
A 4K resolution aerial drone
A compact slider dolly
A jib
Vehicle mounts.
We also offer a range of secondary production services, including electrical, grip, lighting, audio recording, and video monitoring.
Production doesn't stop once the cameras stop rolling, either. The Rock Creek team provides post-production services to ensure your corporate video is detailed, polished, and ready to air. All are done in-house using the latest MacPro-based Avid Media Composer/ Symphony and Adobe Premiere editing systems, DaVinci color grading, overall sound calibration, and closed- and open-captions.
Final deliverables are provided in uncompressed, high-definition Quicktime files, and can be formatted for a variety of digital formats.
Contact The Professionals At Rock Creek Productions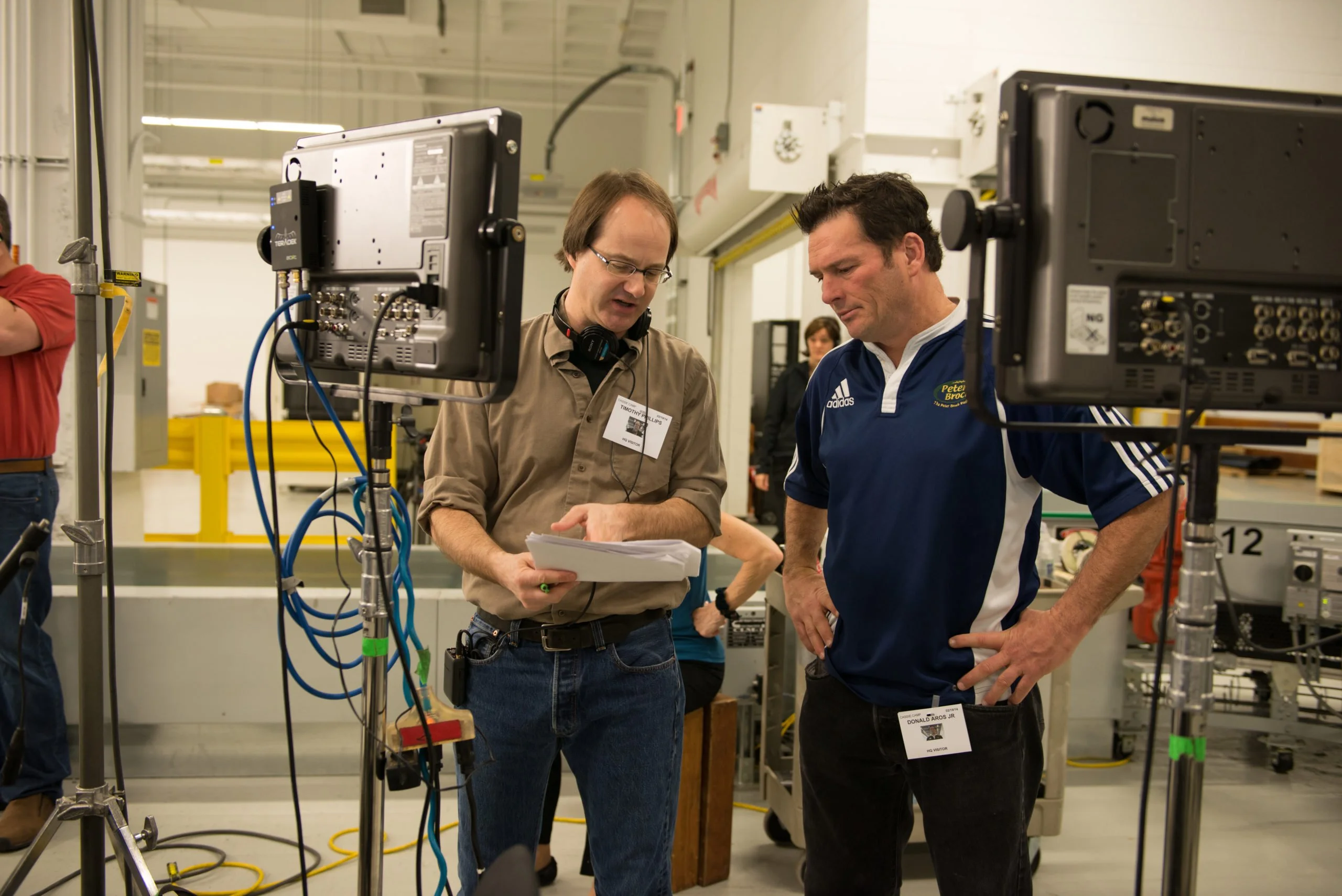 Rock Creek Productions is proud to be Washington, D.C.'s leading provider of full-service film, video, and media production services. Our award-winning digital storytelling incorporates the latest technology with the industry's leading production talent to provide exceptional corporate productions for our customers in Washington D.C. and throughout the Mid-Atlantic (we also have an office in Asheville NC).
With more than 20 years of experience creating quality productions for businesses, non-profits, and governmental organizations, we have the skills, knowledge, and versatility necessary to ensure your project's success.
Contact Rock Creek today to learn more about our corporate production services!